Subscribe to Our Golden Golf Advisor Ezine for Free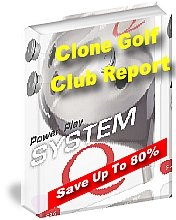 Subscribe to Our FREE Ezine and
Discover Five Little Known SECRETS That Lower Your Handicap
Quickly and Easily!
Only For A Limited Time You Get Our Clone Golf Club Guide (a $19 Value) For FREE!
Learn How Choosing the Perfect High Quality Clone Golf Clubs and SAVE Up To 80%!
Fill in the Form below and receive the Clone Golf Club Report and the first Secret Tip within Moments!
We respect your privacy. Your e-mail will never be rented, traded, sold or swapped.