Play a round of Golf at home with cheap Play Station 2 Games
Playinga round of Golf at home on your computer or with your Game Console (Play Station2, XBox, Game Cube) is great fun. Today's Golf Computer Games are very realistic,graphics and game play are amazing. Golf beginners can even learn the Golfbasics and the rules. Feel like Tiger Woods, Davis Love III or Charles Howell III.



Wealso show you where to get cheap Play Station 2 Games or Golf Games for PCs andXbox
Hereare my favorite Video Golf Games:
Tiger Woods PGA Tour 2004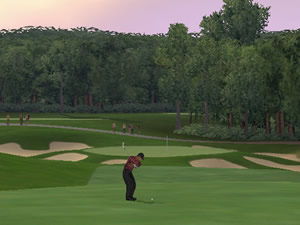 This is my favorite Video Golf game. Thegraphic is brilliant and the game play is very smart. You will have a lot of funplaying it alone against computer competitors or against other players aroundthe world via the web. The analog stick is used to hit the ball with kind of a realswing. You can control the power and direction of your shot with a back andforward motion on the analog stick. A nice feature: You can add power by pressing the L1button during a backswing or add spin in the air by tapping L2 while the ball isin the air.

Tiger Woods PGA Tour 2004 offers 19 different courses to play, 14 of them areplayable without unlocking. Seven new courses have been added such as thechallenging Bethpage Black and Pinehurst No. 2 courses to go along with oldfavorites like Pebble Beach and St Andrews. The increased number of coursescompared to Tiger Woods 2003 makes the new version a worthwile purchase.
You can play as or against over a dozen top PGA Pros, including Tiger Woods,Vijay Singh, Justin Leonard, and new golfers like John Daly and Adam Scott.
The Expanded Career Mode lets you take your golfer through a 52-week World Tourto earn money and sponsorships. The earned money can be invested to buy newGolf Clubs, Shafts, Balls and much more.
Tiger Woods PGA Tour is available for Play Station 2, XBox, PC, Gamecube
Rating: 10/10
Best Video and PC Golf Game.

Where to get cheap Play Station 2 Games or Games for XBox, PC, Gamecube:
Rent Video Games Online! Start your Free Trial with GameFly now!
---
Hot Shots Golf 3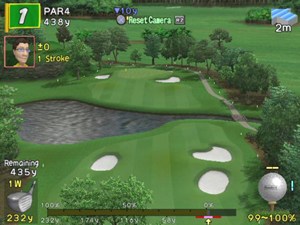 This is a real fun game and an attraction for every party.It's more an Arcade Game than a Golf simulation. Golf is presented in a freshway and the Game is great for people who weren't familiar with Golf so far.
Youplay Goofy Golf with cartoon Golfers. You use a little sliding horizontal hit meter to smash theball and a grid to help with putting. Nothing new in terms of general design.
The gameplay is very easy to learn: You press abutton three times to use the little horizontal hit meter. Spin can be added tothe ball depending on the golfer's spin skills.
There are three type of Game modes: Classic Stroke play lets you takeon a course alone and gain points. In the Tournament mode you play againstdifferent Computer golfers. The better you play the more your player climbs the rankings and unlocks new courses.There are six courses available but four of them need to be unlocked. InVS mode you play against a Computer controlled Golfer. If you beat him thatGolfer is unlocked.
Rating: 9/10
Fun Golf Game with easy Game Play and Control. Great for a round with your kids.

Where to get cheap play station 2 games or games for XBOX, PC, Gamecube:

Rent Video Games Online! Start your Free Trial with GameFly now!
---
FreeInternet Golf Games

Play a round of Golf on the Web with this amazing free online Golf Game fromNabiscoworld.com. It's the best free Golf Game on the net I've found so far.It's similar to the classic Links Golf Game. You can select a Golf Club then aimto the target and control the power with your mouse.

Check it out: Freeonline Golf Game(you need to have installed Macromedia's freeShockwave Software installed on your PC; You will be asked to download it)

---
Areyou only interested in getting cheap Play Station 2 Games or Games for your PC, XBOXor any other Video Game Console? Here are recommended Internet Stores where youcanbuy Video Games at great prices:

Tip: Rent Video Games Online! Start your Free Trial with GameFly now!
---
Copyright © 2004 Golf-Equipment-Advisor.com All rights reserved