Myrtle Beach Golf Course - Best tips where to spend your Golf vacation
MyrtleBeach is one of the best places for playing Golf with more than roughly amillion Golfers a year. This "mecca" for Golfers starts in Georgetown,South Carolina and ends in Southport, North Carolina. In between, there are morethan 120 Golf courses where you can play Golf. Enough for very long and relaxingGolf holidays.
Springand fall are prime time for Golfers, with courses in tip-top shape andocean-fueled breezes keeping temperatures perfect. In winter, sweater andwind shirt are enough and it is possible that you have top 100 courses in MyrtleBeach practically for yourself.

Myrtle Beach Golf Course - The following Golf courses are a must play

Tidewater Golf Club And Plantation
The second-oldest course is the "Tidewater Golf Club And Plantation"which was ranked by Golf Digest as its "Best New Public Course inAmerica" in 1990 and is still No.1 at Myrtle Beach. This course is No.39among Golf Magazine`s "Top 100 You Can Play" list. There are bentgrass and multiple tee boxes, pine-lined inland holes and spectacular holesbuilt along the Intracostal Waterway with views of nearby Cherry Grove Beach.
Details: Par 72, Rating: 72.5, Slope 139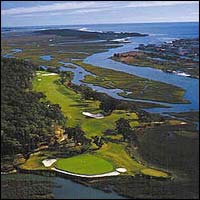 DunesGolf & Beach Club
Another lovely course you have to play is the "Dunes Golf & BeachClub". It`s a 7 200 yard course on which nearly every hole culminates in anelevated green guarded by gaping bunkers. There are a lot of trees along butthey don`t hemmed you. Much more difficult is the water around. The par-5, the13th hole is called "Watterloo". This word says enough, it`s up toyour fantasy....
Details: Par 72, Rating: 72.1, Slope: 132
Link:www.dunesgolfandbeachclub.com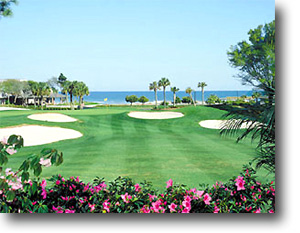 CaledoniaGolf And Fish Club
"Caledonia Golf And Fish Club" belongs to the "Top 10 Placesto Play" (Golf Magazine) and Golf Digest say "Fifth BestPublic Course in America". No. 18 is really the best hole on this dramaticcourse. This par 4 ends at the clubhouse, with water on the right side in frontthe wonderful green which is protected by bunkers front and back and features aridge down the middle.
Details: Par 70, Rating: 69.9, Slope: 134


BarefootResort
Golfers have their choice of four courses at the "Barefoot Resort",opening in 2000. Each is named after its designer: the Pete (Dye), the Tom (Fazio),the Greg (Norman) and the Davis (Love III).
Tom`s course contains water on 15 holes and there are plenty of sand and waste areas. Hole No.13 is a par-4 with two greens, extensive bunkers and a sand waste area.
Details: Par 72, Rating: 73.7

Greg`s course is a very natural one. Vegetation and waste areas are around the holes which reminds to a desert. In fact - there is none. The little par-3, No. 10, is a lovely hole with the Waterway in the background.
Details: Par 72, Rating: 73.9

The Davis` course contains a lot of fun. Nearly every hole sports a generous landing area. The Golf course reminds to courses in Scotland and Ireland because of the surrounding.
Detail: Par 72, Rating: 75.1
Link: www.barefootgolf.com
TournamentPlayers Club of Myrtle Beach
Also one of the best courses is the "Tournament Players Club of MyrtleBeach". It belongs to "Top 10 Best New Upscale Public Courses" in1999 and is ranked among " Top 20 New Courses To Play" by the GolfDigest. This wonderful Golf course is the home for the PGA Senior TourChampionship and was designed by Tom Fazio and Lanny Wadkins. The first nineholes are very sandy while the last nine holes features extensive water.
Details: Par 72, Rating: 70.4, Slope: 126

TheRiver Club
What about "The River Club"? This course is built in a veryplantation-style with enough water (on 15 Holes) and nearly 100 bunkers. Thefairways are nicely and wide but if you want to reach the green, you have toplay very accurately. The last hole is a very interesting one. It is a doglegleft which you have to play down the water-lines left side and a green tuckednext to the water. The third shot is a carry over the water. Details:Par 72, Rating: 70.2, Slope: 129

TheWillbrook Course
"The Willbrook Course" is a very friendly course for women. Thereare wetlands and waterways and there are plantations and forests. The 15th holeis a very exciting one. It`s a par-5 dogleg left that slopes downhill. At theend is the green which is protected by deep bunkers. Marsh runs diagonallythrough the middle of the fairway. Details:Par 72, Rating: 69.6, Slope: 120

There is much more than the amazing Myrtle Beach Golf Courses
This is only a small selection of all these fantastic and lovely Golfcourses. There are much more where you can spend your vacations. True, there ismuch more than Myrtle Beach Course Golf: There is the Atlantic Ocean coastlinewhere you can enjoy sand, sun, surf, hundreds of restaurants and much more.
Tip: How to get green fee discounts in Myrtle Beach? We recommend to use the Golf Card International with the following benefits:
Savings at over 3,800 courses in North America
Savings at Stay and Play resorts 
A personlized membership card 
Chances to test products 
Discounts on Car Rental 
Free copies of Golf Traveler member-only magazine 
Free golf balls 
---
Goback to Home from Myrtle Beach Golf Course Review

Copyright © 2004 Golf-Equipment-Advisor.com All rights reserved