About Us
Hi, my name is Andy and I'm your Golf-Equipment-Advisor. My girlfriend Karin is the co-webmaster of this site. We are both enthusiastic Golfers. Here a photo from one of our last holidays.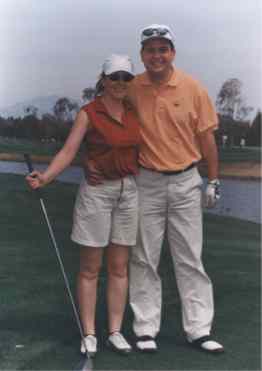 The Golf season in Switzerland lasts from March to October. So what are we doing from November to March? No Golf? We woudn't survive! If possible we take some holidays in sunny places with beautiful Golf courses. This November we spent lovely holidays in South Africa and played some great tournament courses in Erinvale, Pezula and Royal Cape. South Africa is a beautiful country and the Golf courses are amazing.
Below a picture of my Drive on South Africa's number 2 rated Pezula course. Wonderful views!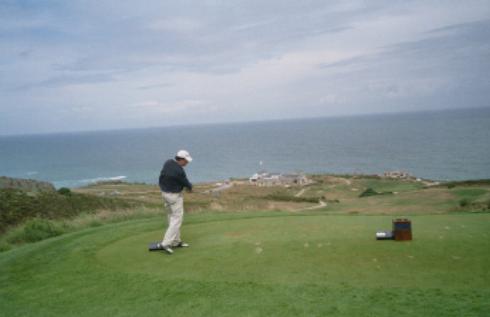 Golf is my passion since I started the wonderful Game of Golf in 1997. I play in the low 80s and hope to break the 80s more regularly soon. My personal record is a 78 on a par 72 course here in Switzerland where I live. We love the Golf Game and all around it. I've collected a lot of experience over the last years with Golf Equipment and Golf instruction techniques. I tested dozens of drivers, irons, wedges and training aids. I reviewed hundreds of Golf swing magazines, books and videos. I had a lot of different PGA Pros in my career. With Peter Croker's method I've found my path to a better and more consistent Golf Swing. It was my dream to have an own Golf website and to share my experience with people around the world.
If you're interested in how we built this Website you find more information here .

My girlfriend Karin started extensively playing Golf in 2002 and already played an amazing 85 round last year. She has greatly improved her skills and her swing is so smooth and elegant. I'm sure that she will break 90 regularly in the next season. Believe me she's getting a real competitor and I've to hurry up to lower my score before she will have caught me.
By the way, Karin is a passionate Shrimp Scampi Recipes lover. She owns the great website Shrimp-Scampi-Recipes.com

If you're looking for some really delicious shrimp scampi recipes check out her site.
We wish you a lot of fun on our page and successful Golf rounds.
Karin & Andy
---
Copyright © 2004 Golf-Equipment-Advisor.com All rights reserved