How to build your own Website
the easiest and
most successful way
Have your ever dreamt of building your own Website and make a living while playing Golf?
Hi, my name is Andy and I'm a passionate Golfer and owner of the Golf-Equipment-Advisor.com site.
I often caught myself dreaming of how great it would be to have my own Golf Website and provide my Golf experience and knowledge online to people aorund the world. A successful Website can be further expanded to a Small Home Business. Think about this: work from home, be your own boss and be able to play a round of Golf whenever you want.
I regularly searched the net for small business owner opportunities, especially in the Golf area. They were lots of so-called work-from-home and getting-rich-in-a-week schemes on the Net which I discovered. Honestly some of them were quite tempting, especially to someone who was eager for becoming his own boss like myself. And I made the mistake to order some eBooks from self-claimed Internet Marketing Gurus. The ebooks contained a lot of hype and I quickly recognized that I will not succeed this way.
I continued looking for the holy grail in building a successful website and internet business. One day I discovered a free 5-day email course written by Dr. Ken Evoy. I was quite sceptical at the beginning but than I subsrcribed to it. I learned about Dr. Evoy's C-T-P-M formula as a basis towards building an online business. The key is first and foremost the ability to WRITE words that can sell.
This course opened my eyes! It helped me to understand that the success key to earning a living from a Web site is not by becoming a HTML, graphic design or any other technical freak. The real 4 step forumla to success on the world wide web is
C = Building Content
T = Traffic
P = Preselling
M = Monetize

(The Netwriting Master Course is now available as FREE PDF ebook. You can download it by clicking here )


What happend next?

After reading the mind changing email course from Ken Evoy I decided to buy his famous ebook Make Your Site Sell (MYSS). Make Your Site Sell! is considered by many to be the Bible of selling on the Net. I was overhelmed, it covers every imaginable aspect of building a Web site that can really SELL on over 800 pages. I was a newbie but this book helped me to understand all ingredients which are required to build a successful Website.

(Read here to learn more about MYSS)

After having studied MYSS we wanted to get our own domain and find a hosting company where we could build our Golf page. After looking at many different hosting companies and comparing the features of each we decided that Site Build It was the best choice by far.
Site Build It is another product from Ken Evoy's company!. For me this was really the success trigger product that tubo-boosted my website development. It's the perfect solution for people like me who knew nothing about building a website or getting traffic. I'm not a computer freak and did absolutely not know how to build a website. I had not idea about programming in HTML.But this doesn't matter! SiteBuildIt takes care of all this.
Site Build It (SBI!) is an all-in-one site-building, site-hosting, site-promoting suite of tools. It supposedly eliminates all the confusing technical complexities and exhausting manual labor involved in building and promoting a site, and leaves you with the fun part creating content about your hobbies or interests.
To read more about the Site Build It (SBI!) features click here.

Quick Tour Slide Show...A fast step-by-step demo of how SBI! works!


The SBI Action Guide will lead you step-by-DOable-step down a 10 Day pathway to success.
Click here to download the Action Guide for free.





What are the results?
Today, the Golf Equipment Advisor website is ranked in the Top 3% of all websites by Alexa.com, the leading web traffic measuring company on the Net. It measures traffic-popularity and ranks websites based on a sample of 10 million surfers (out of 16.6 million total active websites on the Net).


My girlfriend Karin is a passionate Shrimp Scampi Recipes lover. She collected hundreds of the most delicious Lobster and Shrimp Scampi Recips over the years. We decided to start a Website for here hobby as well using Ken Evoy's magic C-T-P-M formula.
It's unbelievable, but Karin's site Shrimp-Scampi-Recipes.com is already ranked in the Top 2% of all website by Alexa.com. Her site gets over 4000 visits a month. If you like Shrimp Scampi Recipes check out here site!





Read other amazing success stories of people who bought SBI here.

If you're not sure where to start your own Internet Journey, I recommend you start off by reading the following of Ken Evoy's free ebooks:


Make Your Net Auction Sell! The Masters Course Book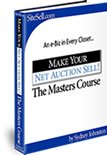 Other recommened Internet Marketing ebooks that help you save a lot of time:
Strike It Niche!



70 High Demand, Low Competition Niche Businesses You Can Start Online, Today - and Haul Away Untold Profits!









A successful business can change your life. Good Luck!


---
Golf Equipment Advisor Home

Copyright © 2004 Golf-Equipment-Advisor.com All rights reserved